I'm in the middle of planning my own bathroom update project and am finding myself surprisingly in love with simple black and white color schemes. Glass door and tile options are lovely, but if you want a simpler solution, the simple minimal pallet of black, white and either a touch of natural wood, stone or gray lets you go a bit more wild with patterns. Jump in!  Lighting options can be tailored to the style without worrying about color as any fixture with a matte black finish option should work perfectly. I'm a big fan of the classic dome light...
---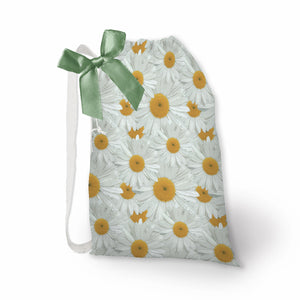 I love pretty gift wrap. But I've hated learning that most wrapping paper can't be recycled. Turns out, including shiny and sparkly paper with your recyclables is only "wishful recycling" and actually worse for the environment than throwing them in the landfill/incinerator-bound trash. According to Earth911, "including it in the bin with other paper products can make an entire load unrecyclable." Laminated and shiny foil papers are the worst offenders.   I'm not a fan of enviro-guilt, but I do love to figure out clever hacks that make things nicer and less, well, trashy all at once. Which is why I LOVE the idea of a reusable gift wrap that won't end up in...
---
There's something about abstract watercolor paintings that just says bathroom to me! Perhaps this is why I've been creating more and more variations on watercolor shower curtain designs lately. Blue is the most obvious color choice, evoking water, bathing, the ocean, and the cleanliness water provides. If you're looking to make a bold and beautiful decor statement in your house without spending a fortune or taking too big of a risk, your shower curtain is by far the easiest place to start. Who knows what else you'll be inspired to do?    Here are some ideas to get you going. Enjoy,...
---
• all about color • bathroom design • purple
Purple is not a neutral color, and its friends violet, lavender and lilac have been associated with everything from royalty to uniqueness to femininity and mixed gender. Don't let it scare you away, though. Designing with purple is a great way to set your bathroom apart. 
---
• accent colors • bathroom design • bathroom design planning • blue bathroom • blue printable art • free printable wall art • metro shower curtains • modern bathroom design • monochromatic bathroom design • navy blue bathroom • printable bathroom art • slate blue bathroom
Trying to figure out how to design your new dream bathroom? Looking to create a look that stands out? On a budget (aren't we all!)? You want something unique, but you don't want to break the bank. Today we're going monochromatic with slate blue. Monochromatic is a fancy term meaning to focus on a single hue, or color, used in various intensity levels and paired primarily with the neutrals, white and black.