Do you love purple? Want a purple bathroom but afraid it might be too much? Let's talk through it. Purple is a fun and bold color but needs to be treated with some care. 
Lavender and Gray
Here's some inspiration for you, with purple walls, lavender towels and a beautiful floral purple shower curtain with pop art style photo prints in various shades of gray, black and purple. 
For whatever reason, purple tends to be a polarizing color. Nature uses it to make a statement, and there's no reason you shouldn't too. 
Purple is not a neutral color, and its friends violet, lavender and lilac have been associated with everything from royalty to uniqueness to femininity and mixed gender. Don't let it scare you away, though. Designing with purple is a great way to set your bathroom apart. 
Before you do anything drastic, consider how much purple is enough. Are you going for a minimalist touch or all out maximalism purple everywhere approach? The more you can visualize ahead of time, the better. With bold colors, more isn't always better. A painted purple vanity, shower curtain or other key accent feature can go a long way to setting the purple vibe. 
Purple and Blue 
Combining purple with bold blues is another fun way to expand the palette. I love the brilliant blues and purples of the morpho butterflies that inspired this design. Butterflies can be, well, trite and childish in a lot of designs but this print incorporates a poster print style rendering of a photo image that brings out the subtle purple textured background and coordinates nicely with light purple accent walls. 
Want the coordinating butterfly wall art for this look?
You can download it here - it's free and has been optimized to look good on your home printer, for an 8x10 frame or mat opening. Works at 5x7 or 11x14 too - just scale as needed.  
Designing for Kids and Their Changing Tastes
One design challenge I've faced over the last few years is working with my kids and their quickly changing preferences. My daughter is 7 now and purple is her favorite color. But last year it was teal and the year before it was orange. And you're about to update your bathroom and your kid is begging you to go purple but you're afraid she's not going to like it by Christmas. You want to keep her happy and engaged and indulge her budding sense of style, but you really don't want to have to keep repainting the bathroom. What to do? 
Purple as Temporary Accent Color 
A simple approach to this problem would be to choose some bold purple accent pieces that are easily replaceable, such as your shower curtain, bath mat and towels, and then stick with a more neutral wall color, like a warm gray, white or ivory. You can also up the purple power with a few small accent pieces like wall art, toothbrush cup and soap dispenser.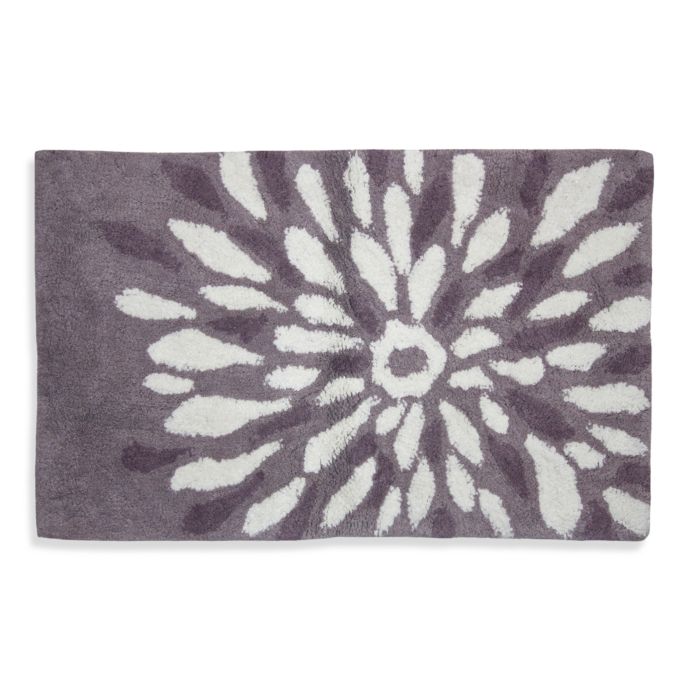 Bed Bath and Beyond - Lacey Purple Flower Power Bath Rug
The Purple Store - Botanica Purple Soap Dispenser
Purple Bathroom Art
Another way to enhance your purple theme is with a fun bathroom wall art piece. To make this easy for you, I've provided one featuring a beautiful purple iris that you can use. The purples are light and varied enough to coordinate with most purple shades.
Download it here! As with the butterfly print, it's 100% free and has been optimized to look good on your home printer, for an 8x10 frame or mat opening. Works at 5x7 or 11x14 too - just scale as needed.  
Lighter Shades - Periwinkle
Other ways to tone the purple down are to choose lighter, bluer shades, such as periwinkle, which straddle the line between purple and blue. This bathroom is full-on periwinkle but with white fixtures and a light shower curtain, it has a calming, boho arts and crafts vibe that works for older children, teenagers as well as adults. 
Most importantly, have fun with it! 
P.S. - If you are using any of my free wall art, I'd love to see photos of the placement! Email me at info@metroshowercurtains.com or post them to Instagram, hashtag #metroshowercurtains - thanks!