Trying to figure out how to design your new dream bathroom? Looking to create a look that stands out? On a budget (aren't we all!)? You want something unique, but you don't want to break the bank. Today we're going monochromatic with slate blue. 
Monochromatic is a fancy term meaning to focus on a single hue, or color, used in various intensity levels and paired primarily with the neutrals, white and black. The Spruce has a great post with more about monochromatic color schemes for your interior design projects where the author, Diana Hathaway Timmons explains: 
"While the word monochromatic literally means one color, in decorating, it actually means that the color will be refined in a few ways to create a livable space."
I love darker blues for bathrooms as it's calming and clean, and of course, it's not just for boys' bathrooms.
Getting started: find your inspiration
A good starting point is to think in rough terms about a color palette in an abstract or general sense, e.g. darker blues. Then, select a bold design element such as a piece of art, and build your color scheme around that. 
Design focus: the Shower Curtain
Full disclosure: Metro Shower Curtains sells, yup, shower curtains! Our patterns are created to be a central design or art features of your bathroom, not simply something to hang in the background. In fact, the shower curtain is the biggest and one of the most affordable ways to display art in your house! So, if you want to create a bold bathroom look quickly, find a shower curtain you love. There are so many options both in our store and elsewhere. Take your time and look around. When I was a kid, shower curtains were either solid colors or patterned, but the advent of high-quality, large scale sublimation printing has made it possible to display large scale fine-art in your bathroom on lovely soft satiny fabric, for a fraction of the cost of a professionally framed print. There are so many design possibilities!
Other accent design pieces could be a piece of wall art, window curtains, or a patterned tile or wallpaper wall. 
Today's Slate Blue Inspiration
Today let's look at this blue and black tree print shower curtain, which you'll see features a bold but monochromatic design. This makes it easy to work with to create a finished look.  
I love the water droplet theme for bathrooms, and that this photographic print design has captured the refracted view of the tree in miniature and upside down over and over again.
The design works as an oversized canvas-like art print, light enough for a small space but bold enough to plan a bathroom around. 
Accent Colors
With this shower curtain / artwork in mind, we want to find a bold coordinating  accent color for a single wall, half wall, or potentially the floor tile. If you're on a budget, a can or 2 of paint will by far be the best bang for your buck. However, if your project is more involved, you might consider adding wainscotting or beadboard to the lower half of your walls, or if you are tiling, this opens many more options, including single or half-wall treatment, or a coordinating row of darker blue accent titles set against a white background. 
Accent colors are not to be used everywhere, or the room will be too dark. Choose a single wall, e.g. the one behind the sink. With wainscotting or beadboard, use your accent color for half of the walls. Going dark on the upper half is more traditional but take your pick. Or, apply your accent color to the lower half of the walls and balance with white tile on the upper half.
If you want some more great general ideas on selecting an accent color, check out this article from School of Decorating.
But let's just focus on paint for now. 
Paint
If you are planning a design around an art piece or shower curtain, I'd strongly suggest ordering the piece before you purchase your paint so you can have your paint mixed to match either by requesting a visual spectrometer match (most paint stores can do this!) or via the paint chips available at most paint store. I would not attempt to select matching paint on your computer screen as colors may vary slightly.
Color value: how dark should you go?
Once you find a matching color, e.g. something like Benjamin Moore's Van Deusen Blue, check to see if it's on a color chip with 2-5 other lighter or darker shades of he same hue (that is, the color without any white or black mixed in). If so, any of those variations could work depending on how dark you want to go. For an accent wall or wall section, you can go a lot darker than for colors you will use to paint an entire room, but remember that paint chips almost always look lighter than they will appear on walls. Take them home and tape them on the wall to review throughout the day under different lighting conditions. If you can, order a sample and test to be sure you like it! 
Paint Texture: why so many options?
Matte, gloss, eggshell?? For bathroom paint texture, the basic rule is that the shinier the better, in terms of repelling moisture. However, for aesthetics, too shiny can look unappealing. So I personally suggest a satin finish, which is in the middle of the shininess spectrum.  
What about my non-accent walls? 
Paint or tile them white. The ceiling and trim too. There, that was easy! 
Coordinating the Rest of the Look 
Some other key considerations for your bathroom include: flooring, a vanity, countertops, towels, bath mats, shelving and other small accent pieces. 
The floor
Stick with basic neutrals. White or gray tile will almost always work. Or a pattern of various shades of white plus your accent color. Wood tones go with almost everything, however, true wood flooring is not recommended for bathrooms as it may rot over time due to the moisture levels (engineered wood or wood grain tile, however, are suitable). 
Towels and Bath Mat and other Linens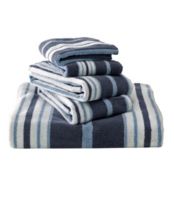 While white certainly works with everything, if you want something different, a good trick for your linens is to choose a lighter shade of your accent color.  For the towels, white with stripes in the darker accent color can also work well and not compete with the bold print of the shower curtain. 
L.L. Bean sells the slate and white striped towels that are pictured above here. And the beautiful light indigo bath mat is from World Market, love it!
Here's another idea. If you need a place to store laundry in your bathroom, this laundry bag with blue watercolor brush strokes is designed to look great either at home or at the laundromat, and coordinates well with the colors of this blue bathroom. 
Fixtures, Vanity, Shelving and other Furniture
For dark accent colors, you can't go wrong with a black for shelving, frames, a vanity and white or light gray countertop. As with the floor, medium wood tones can also work especially if they are coordinated with other elements such as shelving or picture frames. Tubs, toilets and sinks should always be white. Of course this is my personal preference, but keep in mind that white is generally going to be the most budget-friendly, flexible option as well as the style least likely to go out of fashion.  
Highlight with Black
A few black elements in the room will balance and punctuate the large light walls, tub, toilet. Think eyeliner. Vanities are good start. Black or darker shades of bronze faucets and hardware work well, a black or dark wood shelf, stool or picture frame. 
Wall Art
Wall art for a monochromatic decor is another fun way to bring together your color scheme. One simple and safe option is to stick with black and white art. You really can't go wrong, especially if the room already includes a few black elements.
Or you could opt for something in a contrasting color, such as dark orange, for a counterpoint of color, but this is a lot trickier to pull off.
If you are lucky enough to find something that matches in tone with contrasting or complimentary content, this can create a unique and intriguing look too. In our final room design, I have used a large-scale flower photograph from which the color was removed and replaced with a matching blue tone. It's a dahlia, if you're wondering, and it originally was pink! Print it on 8.5"x11" regular or heavy paper, put into an 11"x14" black frame with a white mat (e.g. this one which Amazon offers for $14.95), and you're good to go! 
To make this a bit easier for you, I'm including the art for you to print yourself at home, available here for free in high resolution jpg format. The image is 300 dpi at 8.5x11 (letter paper) and will print at good quality up to about 16"x20." 
Pro tip to display in an 8"x10" frame: print at 50%, centered, on letter paper, which will leave a fat white border. Trim the paper on all sides down to 8"x10" - that's .25" on the long sides and .5" on the short sides.  Then you can pop it into an unmatted 8x10 frame to get a matted look without the hassle of a mat. Or scale it down and use it to make greeting cards or whatever, if you prefer. :) 
If you want to check out the shower curtain featured in this post, it's here: 
Happy designing and good luck!